Elizabeth Bluhm, Class of '95 Gift Planning Chair, shares what inspired her to make a legacy gift to Williams when she was just starting out in her career as a physician and what that gift will achieve.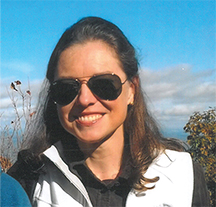 "When I was 30, I wrote a will leaving a lump sum to Williams to be used specifically in support of the Log Lunch series. I felt a sense of hope as I pictured future Ephs eating soup and salad at a long table in a college building where many generations had sat before.
If you have ever lost a friend too young, you understand the way a person can be in your thoughts and yet remote. If one of us should die before our time, we need to point the way for others to continue the work that we loved the most. We should write our names on the programs and places we want to endure beyond our own lifetimes.
As Walt Whitman wrote,
"It avails not, time nor place—distance avails not,
I am with you, you men and women of a generation, or ever so many generations hence,
Just as you feel when you look on the river and sky, so I felt,
Just as any of you is one of a living crowd, I was one of a crowd,
Just as you are refresh'd by the gladness of the river and the bright flow, I was refresh'd,
Just as you stand and lean on the rail, yet hurry with the swift current, I stood yet was hurried,
Just as you look on the numberless masts of ships and the thick-stemm'd pipes of steamboats, I look'd."
(Giftwise Spring 2016)