A planned gift and bequest recognition society for Williams College
The Ephraim Williams Society recognizes alumni, spouses, parents and friends who have established planned gift arrangements with Williams or included the college in their estate plans. All are welcome to join. Please call the Office of Gift Planning if you would like information or assistance as you prepare your own estate plans. 
Membership in The Ephraim Williams Society is purely honorary, carries no obligations and is open to all friends who have demonstrated their commitment to the College's future by establishing life income gifts (pooled income funds, charitable remainder trusts, or gift annuities), or by including Williams in their wills, trusts or as beneficiary of a life insurance policy, retirement plan, or donor advised fund. No gift minimum or proof of bequest intention is required. All are welcome!
If Williams is included as a beneficary of your estate and you would like to be welcomed to The Ephraim Williams Society, or if you are already a member and would like to share the details of your future intention, please complete this Membership Form or contact us to share or discuss your future intention or request a Membership Form by mail.
For more information, call the Office of Gift Planning (413) 597-3538 or e-mail us at gift.planning@williams.edu.
Meet the chair of The Ephraim Williams Society
---
"A legacy gift supports Williams into a future that builds on its superb past. Membership in The Ephraim Williams Society recognizes that commitment of generosity. We welcome everyone who is part of that devoted support."
-Paul Neely, '68 Trusttee Emeritus, Williams College and Chair, The Ephriam Williams Society
---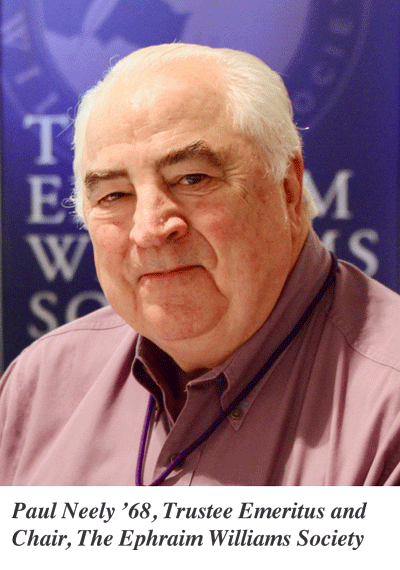 Paul Neely '68 is an Eph's Eph, having served in just about every volunteer role imaginable, including as a member the Board of Trustees (July 1995-June 2009). He is currently serving as secretary for the Class of 1968 and just finished his service on the Principal Giving Committee for the record breaking Teach It Forward Campaign. Paul and his classmate, Bob Scott '68, were awarded the Rogerson Cup, the college's highest award for alumni service at their 50th Reunion in 2018.
Following his graduation from Williams in 1968, Paul went on to the Columbia Graduate School of Journalism, where he enrolled in a media management program earning his MS in journalism and his MBA simultaneously. From there, Paul continued his family tradition in journalism working for many newspapers across the US. In 1973 he was a Pulitzer Prize finalist. He finally settled in Chattanooga, TN, as the managing editor and later the publisher of the Chattanooga Times, the first person outside the Ochs/Sulzberger family to hold the title of publisher for the newspaper since Adolph Ochs bought the paper in 1878. He now lives part of the year in Williamstown and part of the year in Chattanooga.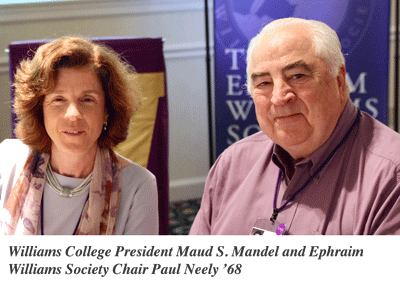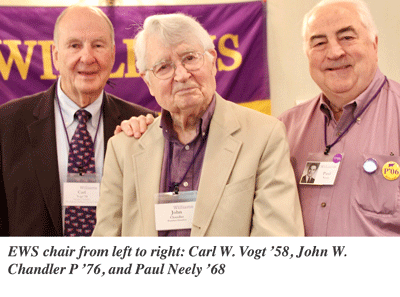 Learn more about the Annual Ephraim Williams Society Breakfast »