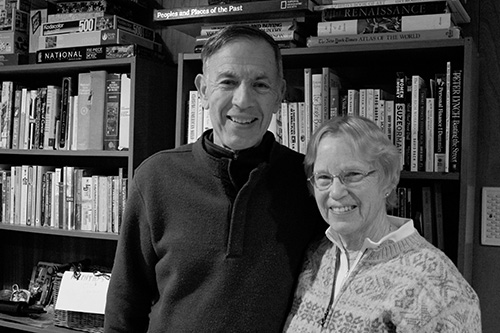 Since his first day as a volunteer for the Alumni Fund telethon more than 46 years ago Gay Mayer's mantra for giving to his alma mater has been "Plan".
Learning that Williams gift commitments at any point after his 40th Reunion would count toward his upcoming 50th, Gay has continued to build upon a foundation of philanthropy as enduring as his relationship with the college.
As a Williams student Gay formed relationships that have became so critical to who he grew into, that volunteering first as an alumni associate agent, then to Class Agent, 25th Reunion vice chair, and now Class President all felt like simple payback. Even as CEO of MEM Company and an active community volunteer, he's always made time for Williams.
In planning for his 50th Reunion gift, Gay funded several Williams charitable gift annuities in addition to outright gifts. Each annuity provides lifetime payments with remaining funds to support the Class of '64's 50th gift purposes. Gay and his wife Mary have also named Williams as a beneficiary in their charitable remainder unitrust, providing further support for both Williams and Mount Holyoke, Mary's alma mater.
"The folks at Williams in the gift planning office have been a great resource," says Gay. "And their best advice has been to make sure we work closely with our own tax attorney and financial advisor early and often!"
Planning has been easier for Gay than trying to rush decisions. And thinking long term ensures that future Williams students may find their own lives changed for the better, as was his. For now, Gay is looking forward to seeing his '64 classmates at their reunion when they will have a chance to recommit to their journey: "climb high, climb far, your goal the sky, your aim the star." (Giftwise Spring 2014)