Estate Planning's Practically Spiritual Benefits 
An Interview with Class Gift Planning Chair Jason Poling '94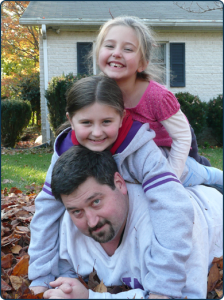 What about your Williams experience seems most meaningful in retrospect?
What's been most meaningful for me has been the relationships that I've developed with Williams people—classmates and professors from my time on campus, of course, but also fellow alumni that I've gotten to know through my regional association.  I'm also glad to have lasting friendships with alums I met as students the half-dozen times I went back to campus as a guest speaker.
What have you been up to between your graduation from Williams and now?
Upon graduating I threw myself into campaign politics, which I quickly learned was not a good field for me to be in. After a few temp jobs and a too-close-for-comfort brush with law school, I discovered a calling to ministry. I have been a pastor for over 15 years now, and I have the privilege of serving the church I helped to plant in 2003.
What made you decide to volunteer for Williams gift planning program?
I'm grateful to be part of the Williams community, and I want to make as meaningful a contribution as I can to this unique institution. I've been an associate agent for over 10 years and I was happy to respond to the Development Office's invitation to serve as the Class of 1994's gift planning chair.
Why did you take the step of making your own planned gift commitment to the college?
When my wife and I drew up our will, I knew I wanted to include Williams as a beneficiary.  My parents and grandparents included the college where they all met their spouses (Ohio Wesleyan University) in their wills—so I had good examples to follow.  My family isn't wealthy, but you don't have to be to have a special relationship with a worthy institution.
What would you tell a skeptical classmate who thinks she's too young to think about gift planning, particularly bequest planning?
First off, I'll say as a pastor that you will be doing the people who love you a huge favor by having things in order (not only a will but an advance medical directive) so that in the event of an untimely accident, the grief they experience will not be compounded by the difficulties involved in determining (and/or arguing over) what your interests are.
But I'd also say that even if you think Williams would be lucky to buy a sub at Pappa Charlie's with a percentage of your residual assets, you're making a statement about your lifelong commitment to this place we all treasure so much.  Who knows?  You may end up doing very well financially—or, your commitment may inspire somebody else to do the same, and that person will turn out to be very successful and very generous. Later in life, of course, all sorts of complicated estate planning may be necessary, and congratulations to you if you need it.  But when you're starting out, all you need is a very simple will and it's very easy to make sure Williams is included in it.